Moderators: honeev, Leonid, amiradm, BioTeam
Garter

Posts: 2
Joined: Fri Nov 17, 2006 10:17 pm
Is this a banded krait? I found it in my backyard; please tell me.
---
hmm, I would say this is not a banded krait Bungarus fasciatus, though it looks to be a many-banded krait, Bungarus multicinctus

hope this helps
- disarm you with a smile

Founder of "Photography Club"
Member of "Truth-Seekers" tribe

#1 posts/day total
#8 total post count
---
Garter

Posts: 2
Joined: Fri Nov 17, 2006 10:17 pm
Well, I'm just deciding between a California king snake
Lampropeltis getula californiae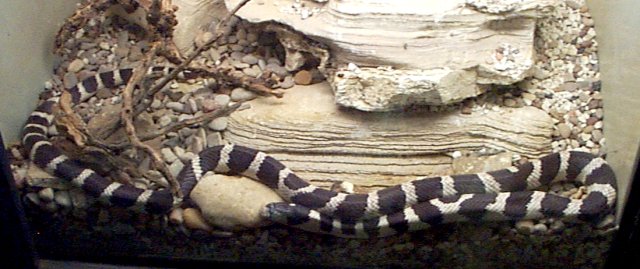 and a krait. I really need to know so Please respond asap; there's a difference between venomous and nonvenomous and since it is in my backyard, there might be a nest of them.
Last edited by
evilstylez
on Tue Nov 21, 2006 4:19 am, edited 1 time in total.
---
So U must live in California?
Dont tell me exotic snakes have escaped there
thats just great!
The everglades are being invaded too!
Any ways this web site is excellent I would get comparision here
http://calphotos.berkeley.edu/fauna/com-Reptile.html
http://animal.discovery.com/fansites/je ... krait.html
"How far you go in life depends on your being tender with the young, compassionate with the aged, sympathetic with the striving and tolerant of the weak and strong. Because someday in life you will have been all of these".

~ George washington Carver
---
Who is online
Users browsing this forum: No registered users and 3 guests