Moderators: honeev, Leonid, amiradm, BioTeam
I know what the most dangerous snake in the world is but do you.
---
It is difficult to identify the most dangerous snake in the world, because the effect of a snakebite depends on the combination of many factors above and beyond the species itself. The age, weight, and health of the victim, the size of the snake, the number of bites, the volume of venom injected, and the speed and efficiency of first aid treatment. However, taking into account the five most widely accepted features for comparison, the saw-scaled or carpet viper is generally considered to be the most dangerous snake in the world. Ranging from West Africa through the Middle East to India and Sri Lanka, it probably kills more people in the world than any other species. In Asia alone, it is reported to kill 800 people annually. Its venom is more toxic than any other viper, it is small and easy to overlook and, above all, it becomes extremely aggressive when frightened or disturbed. Indeed, many snake experts put it on the top of their list of short-tempered species.

The beaked sea snake is generally considered to be the worlds most dangerous sea snake. Blamed for many deaths in southeast Asia, in particular, it normally grows to about one meter long and hunts catfish in shallow estuaries and tidal creeks.

However, the inland taipan is by far the most venomous snake on Earth. A single bite from the snake contains enough venom to kill as many as one hundred human adults. Native to central Australia, the taipan has no record of human-related deaths because of the availability of antivenom. "Fifty times more poisonous than the Indian Cobra," says Steve Irwin.
Last edited by
Condraz23
on Mon Jun 04, 2007 12:41 pm, edited 1 time in total.
---
Coral

Posts: 145
Joined: Mon May 01, 2006 6:38 pm
Location: Katowice - Poland
"Fifty times more poisonous than the Indian Cobra," says Steve Irwin.
Used to say
---
Rattlesnakes are a group of venomous New World snakes, genera Crotalus and Sistrurus. They belong to the class of venomous snakes known commonly as pit vipers.
Myotoxins are small, basic peptides found in snake venoms, such as in that of certain rattlesnakes. This involves a non-enzymatic mechanism that leads to severe muscle necrosis. These peptides act very quickly, causing instantaneous paralysis to prevent prey from escaping and eventually death due to diaphragmactic paralysis.
Also proteotoxic venom.
Senior Education Officer, BNHS, India. www.bnhs.org

Bitter Truth!
Who says reason for world war III will be Petrol?
Reason lies in two words "Me and Mine".
---
We have Eastern Diamond Back rattle snakes where I live, that is the only deadly snake here and I like it like that
Have you all seen the old good discussion with the same title in this forum?
I said Black mamba because it has 20 drops of venom in its fngs at one bite, (only need two drops to kill a human) and it is most likely to attack (some snakes although having deadly venom, is not as prone to giving a death strike.
Here is that discussion:
viewtopic.php?t=1419&start=84
"How far you go in life depends on your being tender with the young, compassionate with the aged, sympathetic with the striving and tolerant of the weak and strong. Because someday in life you will have been all of these".

~ George washington Carver
---
King Cobra

Posts: 3501
Joined: Thu Jul 07, 2005 7:58 am
Location: 55284 Yogyakarta, Indonesia
Contact:
OMG that snake is awesome!!!
This is another deadly snake. If another snakes avoid lights, this snake loves light and like to run after people who brings light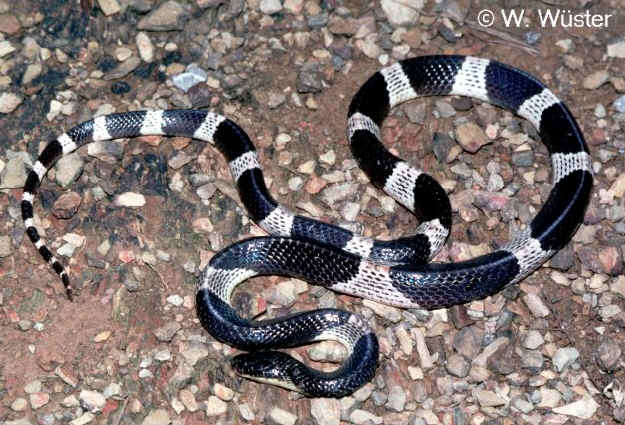 This is not harmful, somewhat similar in color, maybe more "dramatical" but this snake is very spoiled instead of deadly
---
Garter

Posts: 8
Joined: Sun Nov 12, 2006 11:37 pm
The Mamba family would be my fav and i would say they are the most deadly

There Venom kills within 15 mins and that is for one bite
They are agressive and normaly land more than one bite on a victim, if these bites are in diffrent spots they will deal a lot of damage.
b/c the venom has two parts two it neurotoxins and cardiotoxins. This combo effectively paralyzes and stops the heart of the victim....

Deadly... yes
---
I have discovered that
Russell's Viper
is most dangerous as bite cause immediate start of nechrosis of tissue and it require to eliminate that part of body by surgery.
http://www.engin.umich.edu/~cre/web_mod ... uction.htm
Senior Education Officer, BNHS, India. www.bnhs.org

Bitter Truth!
Who says reason for world war III will be Petrol?
Reason lies in two words "Me and Mine".
---
all snakes have different capabilities that make them more dangerous than others, whichever one is more dangerous is a matter of how you look at it
Iron Maiden is my Anti-Drug
---
Garter

Posts: 1
Joined: Wed Aug 29, 2007 12:17 am
i have a couple list to enter hear first the most toxic snake is by far the inland taipan next the most dangerous i would say if you were in a small room would be the black mamba so aggressive and it has a quick traveling venom. the most painful bit and the most venom yield the gaboon viper also the quickest striking snake in the world. then the snake that kills the most people a year would have to be the sawscaled viper because of its wide distribution from africa through the middle east to asia. so there you have it!
---
Who is online
Users browsing this forum: No registered users and 6 guests