Moderators: honeev, Leonid, amiradm, BioTeam
Garter

Posts: 14
Joined: Mon Jan 31, 2005 5:55 am
The OFAH indicate that subjective local community or eco-tourism values should not be a guiding force in natural resource management decisions. However, the OFAH must recognize that the individuals apt to best manage the resource are the locals that depend on it. If community values were accepted as a guiding principle for natural resource management decisions, I doubt the MNR would have cancelled the spring bear hunt nor would regional forests be depleted faster than they are re-grown. The continual cycle is that foreigners (Southern Ontario and now the OFAH) lobby the government to control resources of which they are unfamiliar. The "N.I.M.B.Y. syndrome" which is so detested by the OFAH may actually be the best way to maximize social and economic benefits from the natural resources as the locals who depend on the resource are likely in the best position to manage it. The 2005 hunting and fishing regulations clearly demonstrate that the "N.I.M.B.Y. syndrome" has led to varying seasons, allowable methods of harvest, and restricted locations for harvest. It is doubtful that such diversity of regulation regarding wildlife management would be possible if the "N.I.M.B.Y. syndrome" were not accepted as a valuable tool to properly manage natural resources. Is the OFAH suggesting that Ontario should have 1 common regulation across the province for each species and completely disregard local input for managing their natural resources? We should have different regulations for different areas of Ontario as the province is truly diverse. It is only with controversy and full examinations of a broad array of wildlife management techniques that we will find the ones that maximize social and economic benefits to the citizens living in the regions.
Regarding your P.S. statement and defining predominantly, I would like to thank you for correcting this obvious error. I requested many times that the MNR simply state that moose in WMU 30 & 31, which are more than 50% white, may not be hunted. This approach to legislation (using a percentage) has proven successful in multiple jurisdictions and is much easier for the average hunter to comprehend.
If uncertainty is the basis for your inaction, might I suggest to err on the side of caution. If the white moose are protected and their numbers in the Foleyet area sky-rocket to a point where they become a nuisance, they may be harvested and their population may be brought down to manageable levels. Erring on the side of inaction may lead to the disappearance of the strain forever.
In anticipation of reasoned responses from the OFAH and members of the public,
Joel Theriault
[email protected]
A 3rd generation tourist outfitter entirely financially dependent on providing superior fishing and hunting vacations.
P.S. I wouldn't be so dependent on "science" to guide our natural resource use. Our scientists have been wrong before and will be proven wrong again in the future. Remember to install asbestos and lead pipes in your new home.
--------------------------------------------------------------------------------------------------------------------------------------------
Other News & Links
The OFAH is attempting to stop any protection of white moose in Foleyet -
http://whitemoose.ca/WhiteMooseCorrespondence/OFAH.htm
The Ministry of Natural Resources moves to protect the white moose of Foleyet recogining cultural and social significance -
http://www.mnr.gov.on.ca/mnr/csb/news/2 ... %5F05.html
Ministry of Natural Resources - Background regarding the white moose regulation -
http://www.mnr.gov.on.ca/mnr/csb/news/2 ... %5F05.html
E.B.R. Registry - The Ministry of Natural Resources (MNR) is proposing to amend Ontario Regulation 665/98 (Hunting) made under the Fish and Wildlife Conservation Act 1997 to prohibit the hunting of predominately white-coloured moose in WMUs 30 and 31. Public comments are to be recieved until September 22, 2005 -
http://www.ene.gov.on.ca/envregistry/026069er.htm
Timmins Press - MNR Saves White Moose - News Article -
http://whitemoose.ca/NewspaperArticles/MNR-Saves-WM.htm
Timmins Press - Activists Fight MNR over White Moose - News Article -
http://whitemoose.ca/NewspaperArticles/ ... ht-MNR.htm
Toronto Star - Government inaction threatens rare moose -
http://whitemoose.ca/NewspaperArticles/ ... action.htm
Street Wise - Should the White Moose be protected? - News Article -
http://whitemoose.ca/NewspaperArticles/ ... June25.htm
Photo's
White Moose on the Highway between Foleyet and Timmins- Dulio Dupol - Photos taken April 23, 2000
Forestry Activities from Above - Joel Theriault - Photo taken Summer 2005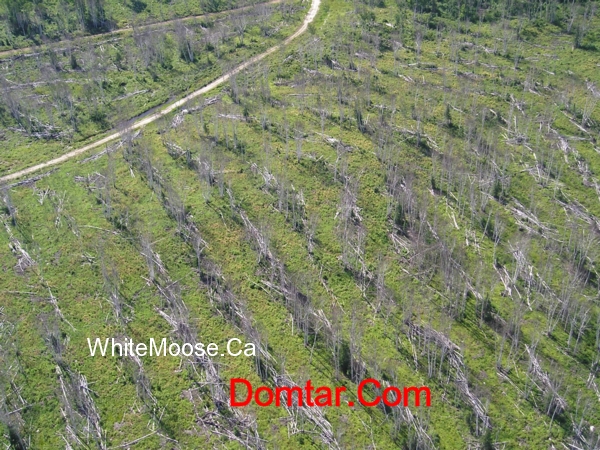 The cut block is approximately 3 miles North-East of Oswald lake ... which is approximately 15 miles North East of my home. I confirmed for my own eyes this summer that the cause of the dead birch trees was the herbicides. Last fall, I flew over my favorite bear hunting area to find a helicopter spraying herbicides on the berry patch. This summer, the spray lines were clearly visible with live trees marking the border of the spray. Multi-national forestry companies are hi-grading the forest and destroying future employment opportunities in the region due to wasteful harvest techniques. When will they stop leaving full grown poplar, birch, cedar, and pine in the bush to rot? If the multi-national forestry company knows that the remaining "MERCHANTABLE" trees will be killed when herbicides are applied, why leave them standing?
Watch the forestry section of the website this fall. I'm currently researching software to quickly modify multiple images and expect to have several thousand photos of wasteful cutting up on the net by December.
---
Who is online
Users browsing this forum: No registered users and 19 guests