Moderators: honeev, Leonid, amiradm, BioTeam
Garter

Posts: 2
Joined: Mon May 23, 2011 7:04 pm
How do I figure this out?
Mutational changes were induced in a single codon in the gene of T4 phage. The following amino acid substitutions were observed. By following the base changes in the codons, determine the codon for each mutant. Assume each amino acid substitution resulted from a single base substitution. Codons for several amino acids are provided.
Normal :
Mutant A: UGG
Mutant B:
Mutant C:
Mutant D:
Mutant E: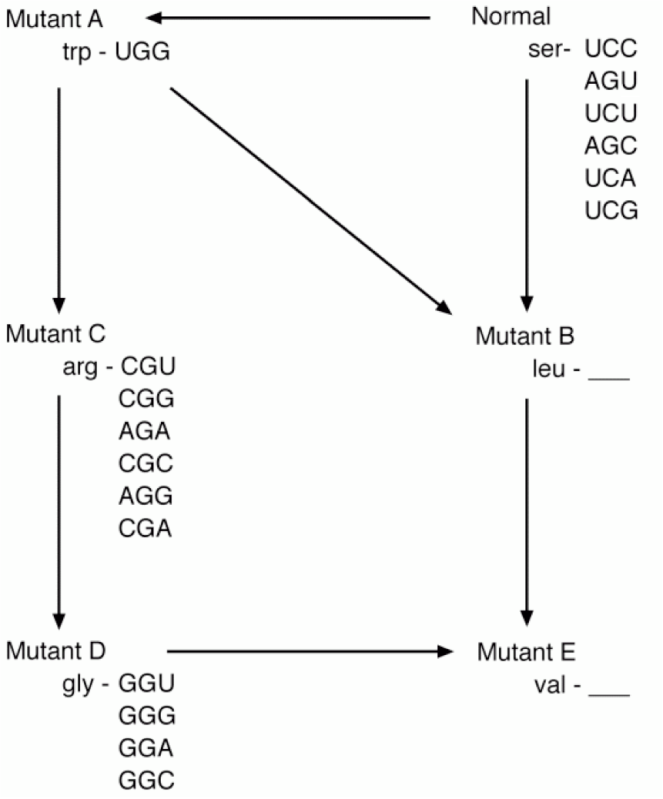 Thank you!
---
---
Garter

Posts: 2
Joined: Mon May 23, 2011 7:04 pm
That doesn't help much though.
---
That wasn't supposed to be any help. But obviously you didn't get it again.
So, read the forum rules
about13990.html
Your homework is pretty easy, so you should first try it by yourself (and ask, whether is it correct) or provide proof, that you have tried and what you do not understand.
http://www.biolib.cz/en/main/

Cis or trans? That's what matters.
---
Who is online
Users browsing this forum: No registered users and 5 guests