Moderators: honeev, Leonid, amiradm, BioTeam
Death Adder

Posts: 66
Joined: Fri Feb 27, 2009 1:52 am
Location: Massachusetts
I think I need help on this one! I found a good comparison between Hobbit skull and modern human at "Bone Clones", here is a small picture of it:
http://www.boneclones.com/bh-033.htm
The two skulls were each made a separate image on a black background with eye and mouth level traced with a green line. It was then easy to write software to trace the outlines into an array then scale so the head size will match. It seems like I traced the skulls fairly. But in case here's the data the line drawing was made from in case I missed something:
It seems that part of the eye socket of the hobbit is missing so one should be taller but I traced what was shown instead of fudging (or maybe it actually should be made taller like better preserved side to be correct?).
Now that I have the numbers to morph a face in proportion to the actual skull outlines I noticed something that I didn't expect in the line drawing below. When you compare the modern (European) skull to the hobbit (yellow) the somewhat rectangular shaped openings are at very different angles.
An Asian skull has some angle in that direction but nothing like I am seeing.
Male
Female
From what I can see I have to do more than stretch the image being morphed I here have to rotate the eye angle of a European face to match the shape angle of the socket. It would not be hard to write a subroutine that would calculate the angles but from what I can see it is a very large amount.
Does it make sense to you that the eye angle has to change accordingly? I can't think of any reason why not, but thought I better ask others into biology what they think before I proceed with the programming.
---
King Cobra

Posts: 5599
Joined: Fri Dec 23, 2005 4:50 pm
Location: South Louisiana (aka Cajun Country)
Contact:
Am I misunderstanding something? Hobbits? As in Frodo Baggins and the Ring of Power? Or is there some other form of hobbit that I'm unaware of?
Generally speaking, the more people talk about "being saved," the further away they actually are from true salvation.

~Alex
#2 Total Post Count
---
alex
Hobbit is the slang term for
Homo floresiensis
- the smaller hominid whose fossils were found in Indonesia. They appear to be a recent (last ten thousand years) extinct relative of humanity, but much smaller. There is still a degree of controversy over whether these are a new species, or simply a dwarfed form of people.
http://news.nationalgeographic.com/news ... ensis.html
Gary
Whether the different angle of the eyes is significant cannot be judged from the data you presented. We need to know how eye angle varies from individual to individual - both for humans and hobbits, and also how the organic eyes are affected. I cannot judge from your drawings - but I am sure the anthropologists who have the actual skulls will be working on it.
---
King Cobra

Posts: 5599
Joined: Fri Dec 23, 2005 4:50 pm
Location: South Louisiana (aka Cajun Country)
Contact:
Ok, now this makes a bit more sense. Thanks for clearing that up!
Generally speaking, the more people talk about "being saved," the further away they actually are from true salvation.

~Alex
#2 Total Post Count
---
Death Adder

Posts: 66
Joined: Fri Feb 27, 2009 1:52 am
Location: Massachusetts
Yes, thanks skeptic for explaining the "hobbit" connection!
What I am trying to do is better explain the island effect, which in turn might help explain epigenetic switching of genes towards a goal such as to become smaller in response to the niche to be filled. Some of the genetic medical conditions hobbit morphology resembles could be showing the genes that are reregulated (but safely) to achieve that stature.
The current most popular facial reconstruction seems to have the bone structure correct, but the hard part is the eyes and other parts that are not preserved in the fossil.
http://theprancingpapio.blogspot.com/20 ... heast.html
http://ngm.nationalgeographic.com/ngm/0 ... media.html
http://news.bbc.co.uk/2/hi/science/nature/4331252.stm
Hobbit is also supposed to be Asian. Flores island is most near Singapore, which is next to China. Which this reconstruction seems to include a little of: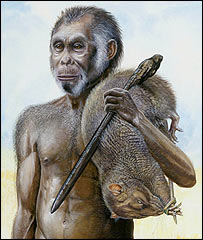 http://www.d.umn.edu/cla/faculty/troufs ... obbit.html
As you can see, the reconstructions vary in the eyes where even a little variation makes the individual look very different. Hair-knots and dark scary look is another thing that is added when for all we know they looked very Chinese and better groomed than imagination leads us to believe. And if our current morphology changed to that size then we would still look much the same we do now. Epigenetic switching could possibly cause that to happen in a matter of generations. One of the possible forms besides this one that is already in us and easy to "genetic drift" towards, also called "determinism" where future change in morphology over time is somewhat predictable.
---
King Cobra

Posts: 5599
Joined: Fri Dec 23, 2005 4:50 pm
Location: South Louisiana (aka Cajun Country)
Contact:
Is H. floresiensis believed to have evolved from H. Sapiens that got stuck on an island or from H. erectus, which is also known to have lived in southeast Asia?
Generally speaking, the more people talk about "being saved," the further away they actually are from true salvation.

~Alex
#2 Total Post Count
---
Alex

There is still argument about whether the 'hobbits' are a different species or simply genetically deformed humans. Assuming they are a separate species, they would be unlikely to be descended from humans, due to the time scale. The fossils are up to 35000 years old, and humans are known to have been in Indonesia for only 60,000 years. However, it would appear that Homo erectus had populations in Asia a million years ago.
---
Death Adder

Posts: 66
Joined: Fri Feb 27, 2009 1:52 am
Location: Massachusetts
Their origin is still very controversial:
Wikipedia wrote:Homo floresiensis ("Flores Man", nicknamed Hobbit) is a possible species in the genus Homo, remarkable for its small body and brain and for its survival until relatively recent times. It was named after the Indonesian island of Flores on which the remains were found.[1][2] One largely complete subfossil skeleton (named LB1, because it was the first specimen found in the Liang Bua cave) and a complete jawbone from a second individual (LB2),[3] dated at 18,000 years old, were discovered in deposits in Liang Bua Cave on Flores in 2003. Parts of seven other individuals (LB3–LB9; the most complete is LB6), all diminutive, have been recovered as well as similarly small stone tools from horizons ranging from 94,000 to 13,000 years ago.[4] Descriptions of the remains were first published in October 2004.[1][2] To date, the only complete cranium is that of LB1.

The discoverers (anthropologists Peter Brown, Michael Morwood and their colleagues) have argued that a variety of features, both primitive and derived, identified the skeleton of LB1 as that of a new species of hominin, H. floresiensis.[1][2] They argued that it lived contemporaneously with modern humans (Homo sapiens) on Flores.

Doubts that the remains constitute a new species were soon voiced by the Indonesian anthropologist Teuku Jacob, who suggested that the skull of LB1 was a microcephalic modern human. A controversy developed, leading to the publication of a number of studies which supported or rejected claims for species status. In March 2005 scientists who published details of the brain of Flores Man in Science supported species status.[5] Several researchers, including one scientist who worked on the initial study, have disputed the 2005 study, supporting the conclusion that the skull is microcephalic.[6][7] The original discoverers have argued against these interpretations and maintain that H. floresiensis is a distinct species.[4][8] This is supported by a recent study published by paleoneurologist Dean Falk and her colleagues that disputes the possibility of microcephaly.[9] They compared the H. floresiensis brain to ten microcephalic brains, and revealed distinct differences that have so far gone unanswered by critics. In addition, a 2007 study of carpal bones of H. floresiensis found similarities to those of a chimpanzee or early hominin such as Australopithecus and significant differences from the bones of modern humans.[10] Studies of the bones and joints of the arm, shoulder and the lower limbs have also suggested that H. floresiensis was more similar to early humans and apes than modern humans.[11][12] However, critics of the claim to species status continue to suggest alternative explanations. One recent hypothesis is that the individuals were born without a functioning thyroid, resulting from a type of endemic cretinism (myxoedematous, ME).[13] This idea has been dismissed by members of the original discovery team as based on a misinterpretation of the data.
http://en.wikipedia.org/wiki/Homo_floresiensis
Here is a skull of H. erectus
http://www.boneclones.com/BH-005.htm
The pronounced brow is there. So it might have been a distant enough relative to consider a new species but then again H. floresiensis is much more modern looking than the above skull.
I also linked to this interesting giant skull of a bred to be mammoth Roman gladiator.
Aged somewhere between 72AD and 472 AD, this skull was unearthed near the Coliseum in Rome, Italy, which was built during the reign of Emperor Vespasiano. This skull is from a formal grave yard for known coliseum gladiators. By the coalition of the skull bones, experts infer the skull is from a large male in his 30's. This gladiator was a huge man for his time and due to his extraordinary size, he was most likely a popular attraction. This particular piece suggests to some that during this Roman period, men were selected by size, if not intentionally bred for fighting. This specimen shows unusual brachycephalic structure with a very high, near vertical forehead (frontal) and exaggerated occiputs. The exceedingly dense skull gives it weight and strength. Noteworthy on the skull is a large, healed "knot" of bone showing trauma. On the lower jaw is a green stain, which appears to be a wash of copper patina from metal that was in proximity to the skull after burial, perhaps a chinstrap. The original skull is in a private collection obtained from a turn-of-the-century phrenology institution collection in New York.
http://www.boneclones.com/BC-198.htm
That's a good example of human intelligence changing its own morphology towards what they themselves find desirable. In this case achieving the G.I. Joe look of a warrior.
http://www.hasbro.com/gijoe/
The hobbit is another morphological extreme. And even though it is an island dwarf of a more distant ancestor it had a very important eye angle.
And here's another recreation that is on the web. The shape of the head and cheekbones look good but the bone framing around the eye and angle is not the same as what my comparing the skulls shows.
http://www.amnh.org/exhibitions/permane ... eading.php
This one seems to have a more aboriginal eye socket.
http://www.boneclones.com/BC-031.htm
Comparing that to hobbit, notice how the upper outer corners of the eye socket forms an arch that looks very Chinese before slanting to fit the square of the socket.
What I mean by square of the socket could relatively easily be shown by Fourier transform of the distances of X,Y points from center of socket at each angle. We then have a distorted AC signal that has a "phase angle" determined by fitting to a four cycle sine or triangle wave. Can test it with modern Asian skulls compared to the European socket. But I would need a harder to find straight-on look at the face in the picture, to get it into the program.
---
---
The latest research on hobbits, published in
Nature
, with a more readable version in
ScienceDaily
(reference below) suggests primitive characteristics that make this a separate species - not just a pathological version of human.
http://www.sciencedaily.com:80/releases ... 144307.htm
Hobbits had 'flat feet', unlike humans who have arched feet. Our arches are an adaptation to long distance running, meaning that hobbits were not good runners. It appears that hobbits evolved from
Homo habilis
or
Homo erectus
.
---
Death Adder

Posts: 66
Joined: Fri Feb 27, 2009 1:52 am
Location: Massachusetts
Thanks again skeptic! That was excellent information to add to the thread.
I think that the best of all was in comments of the first article where it was mentioned that the body stature and giant feet might be a swimming adaptation. With flippers like that I would imagine they could have swam to the island after getting lost at sea or traveled there by boat.
And I couldn't resist trying a Fourier Transform on the eye angles. It worked! I still have one more small algorithm to add before I can get accurate angle numbers but so far so good. Here's the first test where I gave the H. floresiensis skull an eyepatch (little humor there!) with a green square on the damaged eye. There is a corner of the square removed on upper right so that corner will show up on the graph below it showing distance of points from center of eye on both skulls. You can here see the waveform of a square in the graphs.
In a Fourier Transform an idealized waveform (in this case not a sine instead of a square) of same magnitude is moved across the waves (or vice versa) to be analyzed one small step at a time. At each step corresponding points are subtracted from each other then made non-negative then added to the sum of all points. Along the way the one step where there was the least amount of difference (lowest sum) is saved. I made the eye graph data 360 pixels wide, therefore the step number with lowest sum equals the eye angle in degrees. Since there are four waves (cycles) per 360 degrees the angle ranges from 0 to 89.
I also noticed that they added clay to fix the broken eye of the skull. But it doesn't seem to match the other side. So of course I'm thinking about feeding that picture in too just to see what happens to the numbers.
---
Who is online
Users browsing this forum: No registered users and 2 guests