Moderators: honeev, Leonid, amiradm, BioTeam
I am told I should know the follwing

A. How much ATP is produced during fermentation AFTER glucose has been converted to pyruvate.

B. What are the products of fermentation (is there mroe than 3)?

C. What is the role and importance of coenzymes during aerobic respiration


For A I answered 0.

For B, I answered Lactic acid, Hydrogen gas, and Ethanol (I have no idea if there are more than 3 products)

For C, I said coenzyme A is combined with the remaining acetyl to make acetyl CoA which is then fed into the Krebs Cycle.


Are these answeres right or even complete? Any help would be appreciated.
---
B. wrong gas
Living one day at a time;
Enjoying one moment at a time;
Accepting hardships as the pathway to peace;
~Niebuhr
---
A. I think 2 ATP's

B. ATP is also produced. For the gas, think of the bubbles in Beer.

I know, I said I would be shutting up, but I need a break from reading text books.

Q: How can you tell who the lib art students are?
A: They are the ones smiling...
---
Thanks for the reply. SO I take it that it's CO2 and not H gas. Is Hydrogen gas produced at all as a product of fermentation in any circumstance?
---
---
Inland Taipan

Posts: 6832
Joined: Thu Mar 03, 2005 10:18 pm
Location: Romania(small and unimportant country)
Contact:
Your initial answer to the first question is correct. Two ATP molecules are made, but both of them before the conversion to pyruvate. Have you ever wondered why exactly fermentation occurs? It does so in order to recycle NADH if it cannot be used by the electron transport chain, because glycolysis needs NAD+ in order to take place. Have a look at this picture, showing exactly where ATP synthesis takes place and what happens in fermentation(lactic and alcoholic)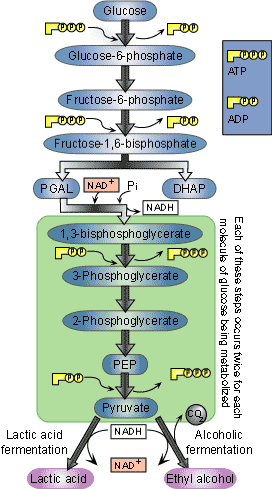 As far as the gas formed from fermentation, it depends on what type of fermentation you are discussing. Most introductory biology books only give lactic acid fermentation and alcoholic fermentation as examples, but there are many more types: mixed acid fermentation(produces both CO2 and H2), butyric acid fermentation(produces H2), caproate fermentation(produces H2), butanol fermentation(produces H2), glyoxylate fermentation(produces H2).
As for the role of coenzymes, I would also include NAD+/NADH and FAD/FADH2 for their critical roles in processes in cellular respiration. Also, there is Coenzyme Q which some do not consider a coenzyme. I say that at least in complex I of the electron transport chain you can list it as a coenzyme.
"As a biologist, I firmly believe that when you're dead, you're dead. Except for what you live behind in history. That's the only afterlife" - J. Craig Venter
---
Are you sure about that? I got this directly from Campbell amd Reece website.
All cells are able to synthesize ATP via the process of glycolysis. In many cells, if oxygen is not present, pyruvate (pyruvic acid) is metabolized in a process called fermentation. By oxidizing the NADH produced in glycolysis, fermentation regenerates NAD+, which can take part in glycolysis once again to produce more ATP. The net energy gain in fermentation is 2 ATP molecules per molecule of glucose. Fermentation complements glycolysis and makes it possible for ATP to be continually produced in the absence of oxygen.
---
the net gain is from glycolysis. fermentation produces no atp and is simpy a way to regenerate electron acceptors(producing more atp from this is considered another cycle).
Living one day at a time;
Enjoying one moment at a time;
Accepting hardships as the pathway to peace;
~Niebuhr
---
Who is online
Users browsing this forum: No registered users and 20 guests